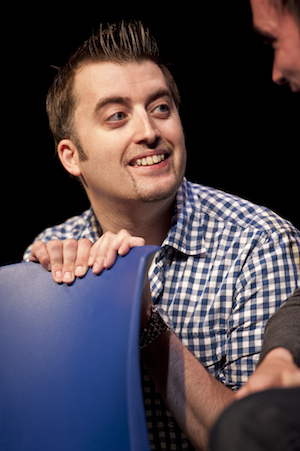 We didn't have to go far for this chat and the tay was immaculate!  This time I had a chat with, er, Neil Curran of Neil+1 and it was all rather existential….
Hi Neil.  So tell us about your group and the people performing
Neil+1 is a show that features just me and a random stranger from the audience, someone who hasn't seen or done improv before.  We delve in a full length long form improv show and its my responsibility to make whatever my co-performer audience member does or says work in the context of the show.  The show is an ultimate test for an improviser as we must embrace the fundamentals for the show to work:  listening, accepting, trust and making the other person look good etc.
How did your group/show come about?
I've always wanted to find a way of performing a solo improv show.  There are plenty of troupes around the world, but very few people take on the challenge of working alone.  In fact some improvisers consider the format very risky!  I got talking to a magnificent improviser in Philadelphia called Matt Holmes, who has his own solo format.  He gave me great coaching and mentoring and I just went from there.  Over time the show has evolved, it went from a 30 minute show originally to its current format of an hour.  The show is still evolving and I have further plans up my sleeve for 2014!
What was your most memorable show?
It was March of this year, I was debuting my new hour long format at Impro Fest UK in London.  I was quite nervous as some of The Maydays were in the audience and I had no idea how people would receive the format.  The show went fantastic though.  My +1 was a college student from Korea and he was terrified but he stuck with it.  He had never seen improv before but was in the neighbourhood and dropped in to catch a show.  The beauty of the show is it allows for my +1 to get in the limelight.  He was getting laughs and who knows, he may have taken up improv afterward.  That was the day I realised I had something special with the show.
Who are your improv influences?
The more improvisers I meet from around the world, the bigger this list gets.  Without doubt though, John Cremer and The Maydays have had a huge influence on me.  Jason Chin  of IO Chicago and Marshall & Nancy of Zenprov have also help mould the improviser I am today.  Some of my favourite improv shows include TJ & Dave and Project Two.
Why should audiences come see your show?
There is no other show like it and it is the height of interactive theatre and storytelling combined.  No shows are ever the same and you never know, you could be the next star of the show!
What's red and invisible?
Er….  No tomatoes?
Neil+1 is performing on Wednesday 13th November at 8pm!