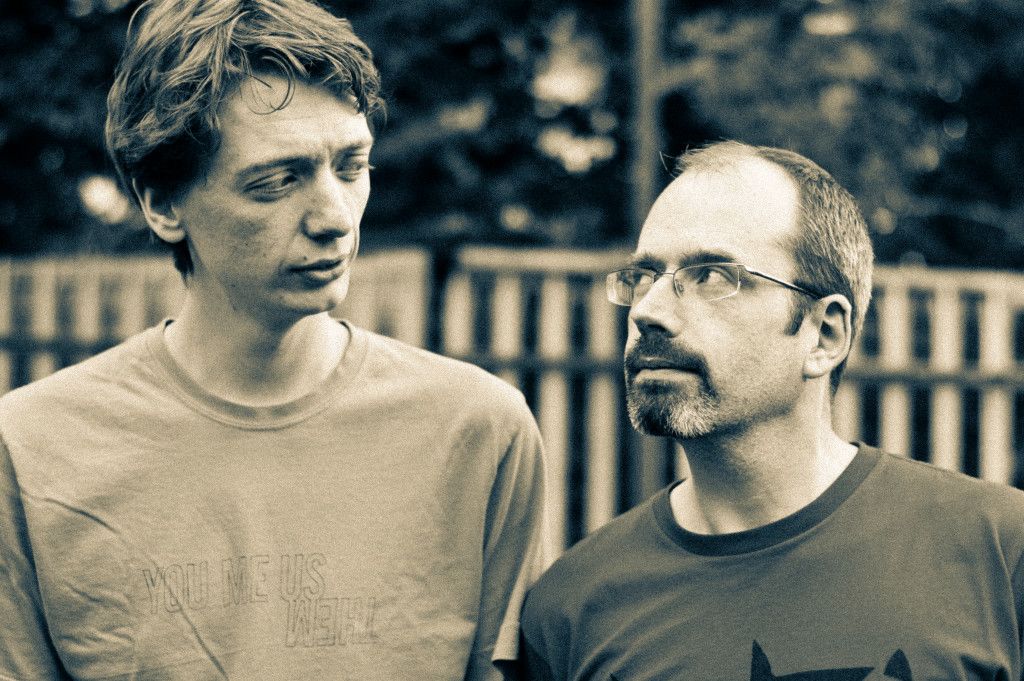 Meet Aaron and Frazer, more commonly known as FRAM!  They're possibly two of the most hardest working improvisers on the island right now.  When they're not busy performing or teaching in Belfast, they're brushing up on their improv skills in Chicago and the UK.
Hello chaps.  Tell us about your group and the people performing.
FR: I'm Frazer Robb.
AM: And I'm Aaron Marshall.
FR&AM: so together we're FRAM!
FR: We get a one word suggestion at the start, then do a series of loosely connected scenes…
AM: …which may or may not tie together at the end. But it's more about the journey, right?
FR: There's just two of us, so we can each play multiple characters throughout the show.
AM: Sometimes in the same scene. Or the same sentence.
FR: It's not as confusing as it sounds.
How did your group/show come about?
FR: We've been in a short form improv group together (Wonder Frog) for several years, and known each other from standup nights for longer.
AM: Frazer kindly gave me lifts to and from gigs for many years. Carpooling brought us together.
FR: Then I went to study longform improv at iO Chicago last summer, and when I came back I wanted someone to do a show with.
AM: And I lived closest. Thus FRAM! was born!
FR: And the shows went well, so we've kept doing it.
AM: We almost like each other now.
FR: Almost.
What was your most memorable show?
AM: Our last show I'd had the flu all week, and was convinced up until an hour beforehand that I wouldn't be able to do it.
FR: And it's quite difficult to do a two person show with just one person.
AM: Luckily the adrenaline kicked in, and for the duration of the show I felt great, and made it through.
FR: A lot of your scenes involved coughing…
AM: That was a character choice! I like to play it real.
Who are your improv influences?
FR: Susan Messing, Joe Bill, Greg Hess and all the people I met and studied with in Chicago.
AM: Can't talk about twoprov without mentioning TJ and Dave. They're amazing.
FR: In terms of the show I'd say Middle Aged Comeback and Cook County Social Club are the biggest influences on how Aaron and I play together.
Why should audiences come see your show?
FR: We're the only group from Northern Ireland in this years festival.
AM: So if you're OCD about attending a show from each of the represented nationalities, you'll have to come!
FR: I don't think people do that.
AM: Well, I've never heard anyone complaining they didn't like one of our shows. Despite standing outside afterwards with my fingers in my ears going "LALALALA" as loudly as I can, desperately trying not to make eye contact with anyone at all. That must count for something.
FR: The shows fast, funny and occasionally silly.
AM: Oh yeah. That too. I'd give it four stars. But the review would read like a five.
Will your show solve world hunger, end war, and bring about a new age of prosperity and enlightenment for all of humanity?
FR: No.
AM: Yes.
FRAM! are performing on Wednesday 13th November at 9:15pm!