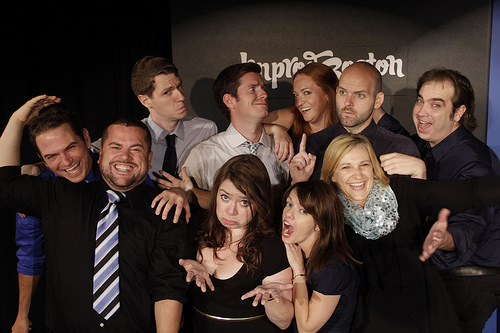 It was time venture over the pond once again to chat with our American friends.  This time I had a chat with Will Luera of ImprovBoston.  Will has the good fortune to travel the world for improv so it is great that Will and ImprovBoston could make time in their schedule to visit Dublin
Hi Will.  We're looking forward to seeing your Irish debut in November.  So tell us about your group and the people performing
The seven of us coming out to Dublin have been working together for almost a decade.  We've been performing with the ImprovBoston Mainstage as well as many other shows at our theater, around the Boston area, and around the world. We will be performing a free-form style of improv that was popularized by ImprovBoston.
How did your group/show come about?
ImprovBoston has been around for 30 years. Will Luera was the Mainstage director from 2000 – 2011 and during that time, cast all of the members of the group that will be coming to Dublin.
What was your most memorable show?
Our annual shows for First Night Boston are always memorable. They are performed on New Years Eve in Downtown in what is a city-wide New Years Party. We perform in from two to three thousand people on those nights. It's amazing.
Who are your improv influences?
My biggest improv influences have been Mick Napier, Joe Bill and the now defunct group, Burn Manhattan. All three have had major influences on the formation of the Boston free-form style. Over time, Martin deMaat, Del Close and the UCB four have been very influential as well.
Why should audiences come see your show?
Our show integrates influences from many different American styles of Improvisation into a very unique form. You'll see a touch of The Annoyance Theater, iO, UCB and Second City in our styles and together, they make a unique experience for all audiences.
What exactly is free-form?
The free-form mindset is built on the concept of "follow the funny" and proposes that every single moment, beat, line and movement in a show can be deconstructed and used to lead you to the next scene. Our show will have a lot of transitional and transformational edits that will allow the performers to weave in and out of scenes, seamlessly.
ImprovBoston are performing on Thursday 14th November at 9:15pm!