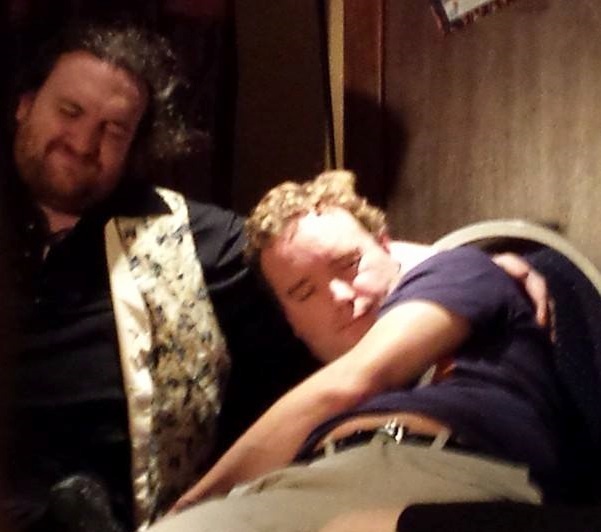 Despite what you might think from their troupe poster, neither Chris or Ben look like Oliver Twist.  And while their photo above might look like they are sleeping on the job, these 2 gents are working hard to bring IMPRORPHANS festival show to the masses in the festival.  Let see what they had to say
Hello Chris and Ben.  So tell us about your group and the people performing
We are a new group gathered together from Dublin's improv scene who are currently not in a group or are just beginning on their Improv journey. We came about through a conversation Ben had with Neil Curran at one of the monthly jam sessions, from there the Improrphans came.
How did your troupe form?
Originally there were two: myself and Ben, we advertised on the "Love! Improv" community page; asked colleagues; and went to other shows where there were often improvisers watching.  From this we gathered an impressive group of talented performers both old and new.
What was your most memorable show?
Our most memorable show is still to come, we came together as a group just three weeks ago and our first show will be a debut in the festival line up. Individually we have had many memorable shows, probably too numerous to mention here.
Who are your improv influences?
Chris:  My influences were the guys that did the Whose Line show in the Comedy Store in London.  Also Colman Higgins, one of the first and nicest improvisers in Dublin, and Orla Mc Govern, who is a member of the Sky Babies and an awesome teacher.   I have to give a special mention to Colin Mochrie also.
Ben:  I'm a big fan of Second City and would list a great many of their alumni among my influences.  My biggest comic influence is Peter Cook who-although not strictly speaking an improviser-was known for his constant off-the cuff dialogue and (often unintentional) ad libbing
Why should audiences come see your show?
Although we are a new group, we're a good mix of experienced and enthusiastic players who have come together with the express purpose of having fun and entertaining you.  If you're a fan of the unexpected or just love improv, need I say more
Some of your troupe have accents.  Where are you all from?
We are all in Dublin now however some of us are from further afield I myself am from England. We are a group that is open to all and all are welcome we intend to take over the world one improv audience at a time. JOIN US !!
Why are you both asleep on stage in that picture?
We even do improv in our sleep.
You can catch IMPRORPHANS on Sunday 11th November at 2:30pm!