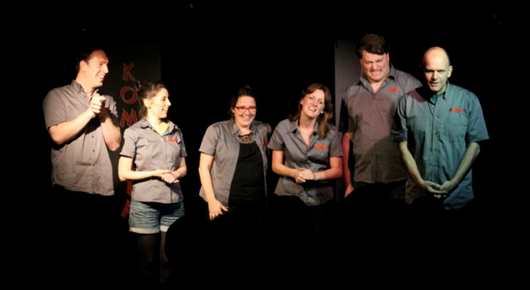 They've won multiple awards; they've performed with
Mike McShane
from
Whose Line Is It Anyway?
 and
Carol Cleveland
from
Monty Python
; as individuals they've performed mainStage in
iO Chicago
and
Annoyance Theatre.  
They're performing their show
Confessions
at Improv Fest Ireland.  But none of that matters if they can't make a decent cup of tea!  Let's chat!
.
.
Hello folks.  Tell us about The Maydays and the people performing?
.
The Maydays are a triple award-winning company formed in Brighton almost ten years ago. We perform longform shows, teach classes and host the UK's only residential improv festival. As well as studying in America, we regularly bring over top international teachers and have had the pleasure of performing in mainstage shows at iO and Annoyance.
The peeps who are in our Dublin show are:
John Cremer – Legendary improv bald man.  Author of 2 books and guru to many!
Rebecca Macmillan  – Historian hottie. One of the original Maydays and also improviser with Impromptu Shakespeare.
'Lloydie' James Lloyd – Our man in the North. Maydays associate, king of 'game' and player in Miss Imp.
Rhiannon Vivien –   Brain-scrambling brunette. Master of the surreal and surprising. Also in MusicBox and Small Pieces.
Liz Peters – Rude redhead. An energetic ball of characters. Also a musical stand-up comedian and in Small Pieces.
Joe Samuel – Musical Director. Not a man. An actual computer made of music. Co-author of Sing It! (He is a man really.)
.
.
How did your show come about? 
.
We create a lot of bespoke shows for businesses and personal occasions, where we've used forms like the Armando, and there is something very special about seeing a show inspired by your own experiences. Confessions is a playful way of creating something unique and personal for the audience on a larger scale. Plus we're all nosy and we like to know what naughty things people have been up to!
.
What has been your most memorable performance?
.
Wow.. there have been a lot! I suppose one that sticks in my mind was when we had a very split audience. Half of them were lads on a stag do  and the other half were very polite middle aged women. So the kind of confessions we'd pulled out had varied from the quaint to the extreme. 
At the top of the second half we asked for a 'live' confession and one of the stags told a really grim story about a debauched night. The women were up in arms, shouting 'we don't want to hear about this. Stop! No!'  
We deftly avoided a riot between the two camps and were able to use the story in a way that honoured it without having the WI throwing up in their handbags! After the show both a stag and a lady came and told me how much they had enjoyed it. Which is an achievement considering it was born out of a warzone. United by the power of improv!

.
.
You improvise music and song in your shows. Is it really improvised?
.
Yes, absolutely! There are a couple of song structures that we are familiar with and know what the rhyme structure and timings should be (ie a twelve bar blues), but on the whole our music is totally created in the moment. You never know when a scene is going to lead into a song so it's exciting to just be present and discover the style, lyrics, melody and structure as you go.
.
.
Why should people come to your show and what can they expect?
.
Confessions is a show based on audience real life secrets. We ask people to anonymously write down their true confessions at the start and we use them as inspiration.  People should come because it'll be a fun show that has real heart and depth, plus it is a wonderful chance to peek into the secret lives of others!
.
.
What are some of the weirdest confessions you've heard?
.
Ooh we've had some corkers! From cheeky practical jokes to acts of downright wickedness, we've uncovered a nation of delightful deviants. There's the mum who always steals the sweets from the Easter Eggs before giving them to her children,  the woman who sent a fury load of excrement through the post in a misguided, and ultimately disastrous, act of revenge.. We've heard so many weird and wonderful confessions that we've released a book containing some of our favourites. 
And 
it turns out
 everyone
 stole stuff from Woolworths so if you're still losing sleep because they went bust, rest assured it wasn't all down to you!
 .
Why should people come to a Maydays workshop?
.
Cos you'll have a great time! If you've never tried it before you'll be amazed at how improv can open you up to play and just enjoy being alive again. Or if you're an improv veteran you can munch on our combined training from over 80 different improv teachers across many different schools of thought. There's always something new to learn and a different way of looking at things. Seriously, do it! Taking an improv class literally changed my life. Yeah!
.
Which Mayday would be most useful if you were passengers on a sinking ship?
.
Joe would be good as he could underscore the sinking drama on his violin, like in the film Titanic. I'd like to die in a blaze of glory to some dramatic string music.
.
What's so great about improv?
.
Apart from the tangible ways, it improves people's lives by boosting confidence, communication and creativity, It's fun! Fun in a scary way like running down a hill so fast you don't know if you're going to fall over and die or actually start flying.  It's drama, dance, music, comedy and poetry in one delicious, unpredictable package. You create a world of infinite possibilities where anything can happen and then you go and play in it. How awesome is that?!
You can catch The Maydays show on Saturday 16th at 9pm!   They are also running workshops from 14th to 17th November!