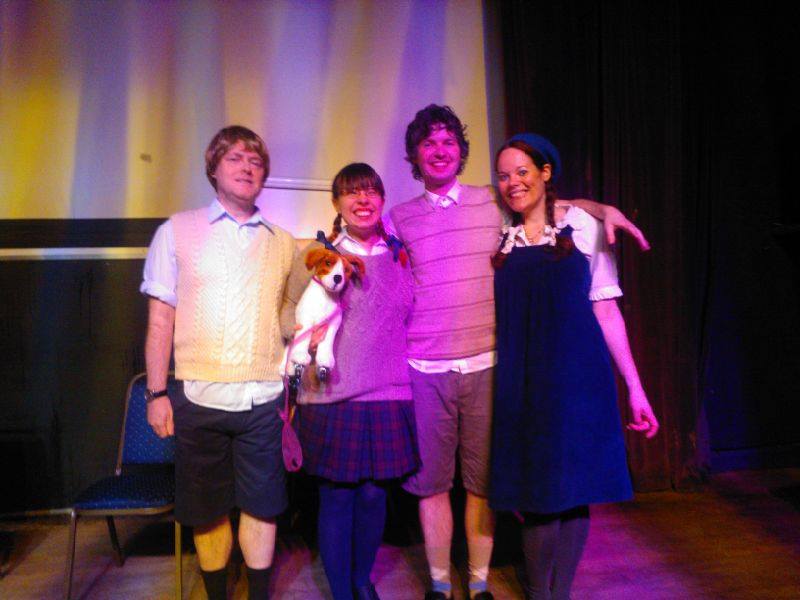 Lets face it.  Irish people are very fussy about our tea.  We take the Lyons or the Barrys on holiday with us and will sit under the Spanish sun in 30 degree heat gasping for a cup of tea.  But there is one other country that does tea like Ireland and thats across the water in the UK.  And the tea in Lancashire is divine.
Meet We Are Improv.  They are bringing their show "The Nearly Famous Five" to Dublin.  It even features a dog.
.
Hello Katy, Rowan, Tom and Paul.  Tell us about your group and the people performing 
Our group is called We are Improv and there are four of us making the exciting trip to Dublin. Our real names are Katy Bateson, Rowan Brook-Thompson, Tom Meaney and Paul Rhodez but on the night the audience will decide our names!
Excellent.  How did your group/show come about?
Katy has been improvising since she was 8 years old and in 2011 whilst on holiday in Turkey, her brain decided that when she got home she had to start her own improv group. After advertising and running workshops and lots of improvisation fun, we are a 7 strong performing group in Lancaster. The show idea also strangely came on another holiday to Turkey where Katy took some Famous Five books to read and the show concept was born! Katy doesn't work for the Turkish tourist board, it's purely a coincidence.
What was your most memorable improv performance?
We recently attend The Maydays annual festival at Osho Leela and we were asked to perform on the Saturday evening, we decided to be incredibly brave and do a mini musical even though Paul, Rowan and Tom had never done musical improvisation before that week. It was a fantastic show and people were singing the "We love Ken" song for days afterwards. The famous Ken is coming to the Irish Improv Festival so listen out for people singing when they see him!
Who are your improv influences? 
We love The Maydays and Lloydie from Misimp. Katy is also inspired by Pgraph from Austin Texas who are coming over in 2014 so we're hoping that more of us will get to work with them.
Why should audiences come see your show? 
The show features 4 children, a dog on wheels, lashings of ginger beer and your suggestions, what more could you want?!
Tell us some interesting facts about yourselves that people might not know!
Tom is actually Irish and from Waterford and loves writing
Rowan is an incredible at crochet and is the artist behind The Nearly Famous Five artwork
Katy used to do Irish dancing and has 3 leopard geckos.
Paul is the memory genius of the group and likes to sing like David Bowie
You can catch We Are Improv on Thursday 12th November @ 8pm!